Ant Obsession
by todoconoin Uncategorized 0 Comment(s)
Gal Nissim with her work Surveil Ants hipnotized me. It is like a spell that activated in me a set of thoughts that now I cannot take back. I feel that the way she invited the audience to think of the path between the ants with colors is playful and it invites to interaction. Somehow I feel that there is a lost message between the title and the whole childish interface. But that makes it even more compelling, it is not heavy and inaccessible. I admire that. The title is talking about this dystopian future where we won't get a condom without being condemned, but with playful colors it lets us play the role of the inquisition in a set of happy ants that look for their food. It is like using anesthetics, I think. To talk but decide everything that needs to be done to avoid any tricky questions. Since I saw this work, it made me feel I should not try to make something aesthetically pleasing to others; it has already been done by Gal Nissim and this is so not me. But I didn't have those thoughts before seeing it, so I think it has been a valuable reflection.
https://www.galnissim.com/explore-surveillants
Elvin Flamingo has an interesting thesis based on the Ant's Way that captivated me. I can't imagine very well what it means to see it there, to stick my nose against the glass walls of his exhibit and contemplate this vast array of tubes and tunnels full of living beings. But I would like to. It intrigues me. Would they make any sound? He questions how would his creation be completed by other living beens. He goes on saying: "Paraphrasing Michel de Certeau, and further Michel Foucault, it's obvious that my train of thought within the context of the The Symbiosity of Creation only records the tracks of more or less certain steps into territory that has long been inhabited. Despite this, this project changes me, and what I thought; I co-create in order to change, to change my thinking, and to no longer think like I did before. In this sense, my work not only changes my thinking, but also my perceptions of everything outside of the narcissistic, egotistical "I". There are absolutely no compromises in what we create together, and each of us the superorganisms and me – mean nothing on our own; we don't exist without one another as a work of art. We have found the shared quotidian that we create together."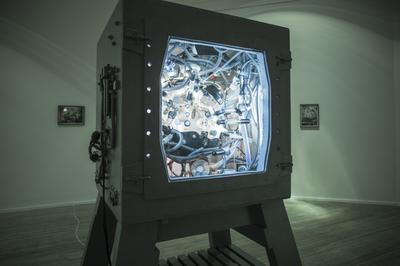 https://kunsthalaarhus.dk/en/Exhibitions/Collective-Making-2-Part-2-Ants-Way-2015
https://interartive.org/2015/11/ants-way-elvin-flamingo
Yanagi Yukinori surprised me. He proposes to work with concepts but to still break them. To show the ephemeral being of the material. It is but it is not. It's there now but it won't be very soon. You see it and it is disintegrating. It looks like a flag or a note. It could not be more dead, but it it is alive regardless what you think. May be it just doesn't matter what you feel or think anymore.
http://www.yanagistudio.net/works/antfarmproject01_view_eng.html
Iantha Naiker makes me feel nothing. She uses ants and so what. I don't see how her work gets completed by nature in the terms I was expecting to connect the meaning and the form of my own work. I included it here because it is pretty and it is somewhat related in the technique. I think there is something specific in the candor that she talks about her drawings that I wish I had already solved with my ants or robots.
The worst artist ever is the one that forgets about the materiality of this world. One that is not true to the self. It is here that I want to put in here with admiration but also with a big question mark about what goals could art have for me or what does it mean to admire nature. I prefer not to include the artist that right now is so popular in internet for showing how thousands of insects are burnt alive to create his sculptures.
Tinkebell provokes me. I like that. It makes me feel alive. I want to believe there is a thoughtful consideration in her work. In her inhumane cruelty. There is of course, the hate discourse. The social media. The press. But after all, I am not entirely vegetarian, so my worries are how does this witchery affect me indirectly. I would stay away from her cat-purse, at least.